Let's get really clear about Trump's racism
Hey, my fellow white ladies I am looking at us
NOTE: I wrote this back in April and for one reason and another it didn't get published.
I knew it would only be a matter of time before I would feel like wheeling it out again. And now it is here. Again. And it will be again.
Imagine a sitting president inciting violence against a member of Congress through a nightmarish video shared and pinned to the top of his Twitter feed. It demands immediate and unequivocal condemnation of the president's actions and support for the targeted representative, it's a given.
Over the weekend, Trump declared war against Rep. Ilhan Omar of Minnesota, a Black Muslim woman. The video pulled comments made by Omar in the broad context of American civil liberties through her lived experience as a Muslim post 9/11. The cherry-picked statements were edited together with images from the planes hitting the towers.  
The Democratic Leadership has failed us, failed Ms. Omar. The tepid responses slowly dribbled across Twitter feeds barely making a ripple (#IStandWithIlhan trended for a while but then dropped off the map). The news media has been it's reliable self, focusing on Mayor Pete and how much money candidates have raised, learning nothing from 2016.  
The most troubling part is the response from the white women of the Democratic party from House Speaker Nancy Pelosi to Senator and Democratic presidential contender Kirsten Gillibrand, who offered non-response responses. 
But let me backup and underline a few things about the Democratic Party—my party. We have a white supremacy problem, which is, by definition, a patriarchy problem. I mean, why do we white women think that so many other white women voted for Trump? Because he is a great guy with great policies articulated well?  
Entrenched white supremacy isn't just reflected in the way we vote but in how our elected officials. And not just the Steve Kings of the world (though Trump's GOP is a racist's safe haven). Despite the party failing women of color it is women of color doing the heavy lifting for the Democrats locally and nationally.  
I recently spoke with the head of a coalition of reproductive justice advocates in the Southeast. The Southeastern Alliance for Reproductive Equity (or SEARE) s a new collective leveraging the work done by women of color in the region when no one else would. Though dedicated to providing access to reproductive health care including abortion, it is largely focused on representation—getting more women of color elected and to the polls. Without elected officials who reflect the numbers of women and communities of color in state and federal government, there is no justice reproductive or otherwise.
A good example of Black women and women of color doing the work for all women is the introduction of the EACH Woman Act. The announcement was made on March 12 by Senators Tammy Duckworth, Kamala Harris, Patty Murray, Elizabeth Warren and others. It would repeal the Hyde Amendment barring Medicaid coverage of abortion once and for all.
 The bill has been introduced session after session by Representative Barbara Lee (who is a champion of women, women of color and children).  
For it finally to be introduced in the Senate is historic. That it is co-sponsored by women running for President is an even bigger deal. And thanks must go to All Above All, the National Network of Abortion Funds, the National Latina Institute for Reproductive Health, and the National Asian Pacific American Women's Forum, and other WOC-led reproductive justice groups. 
These are the women of the Democratic base that the party would be wise to focus on, elevate, and cater-to with socio-economic and, yes, reproductive justice platforms. Yet Democrats can't get together behind a woman of color without caveats and nonsense.
Recall that just last month, politicians from both sides of the aisle accused Rep. Omar of anti-Semitism in response to comments she made about the pro-Israel lobby, which many advocates have argued were misinterpreted in bad faith. Top Democrats, including Senate Minority Leader Chuck Schumer (who finally on Monday at 5:30 pm released a tepid statement condemning Trump), House Minority Leader Steny Hoyer, House Judiciary Committee Chairman Jerry Nadler, and many others have all sharply criticized their colleague for her statements(from HuffPo). 
Thus far, we have seen little to nothing from lawmakers suggesting they pass a resolution condemning or censuring Trump as they did quickly when Omar criticized AIPAC by passing a generic anti-hate resolution. While Omar did nothing wrong (while graciously admitting her willingness to learn and offering an unequivocal apology) the kind of hate being leveled against her by Trump and others is very specific. It is because she is a Muslim. But because she is a black woman she is even more of a target. 
The responses have ranged from direct: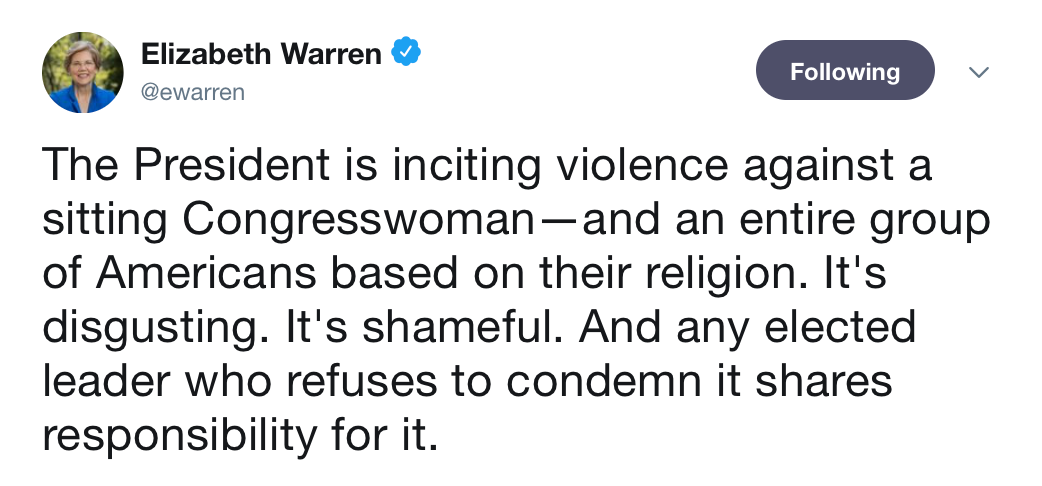 To equivocation and the "but" in each of these tweets mean blame the victim: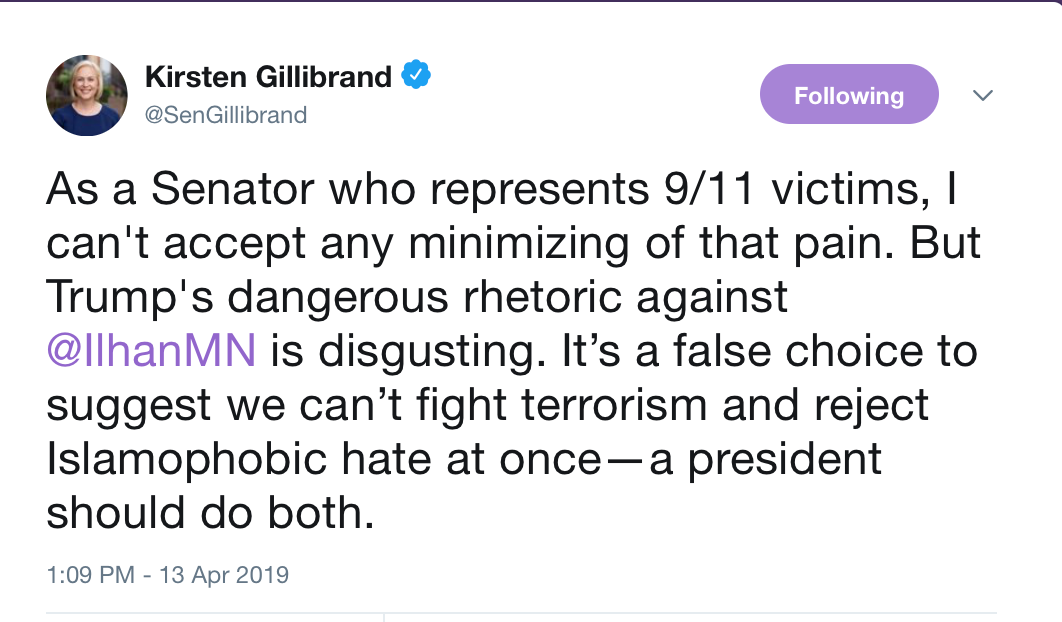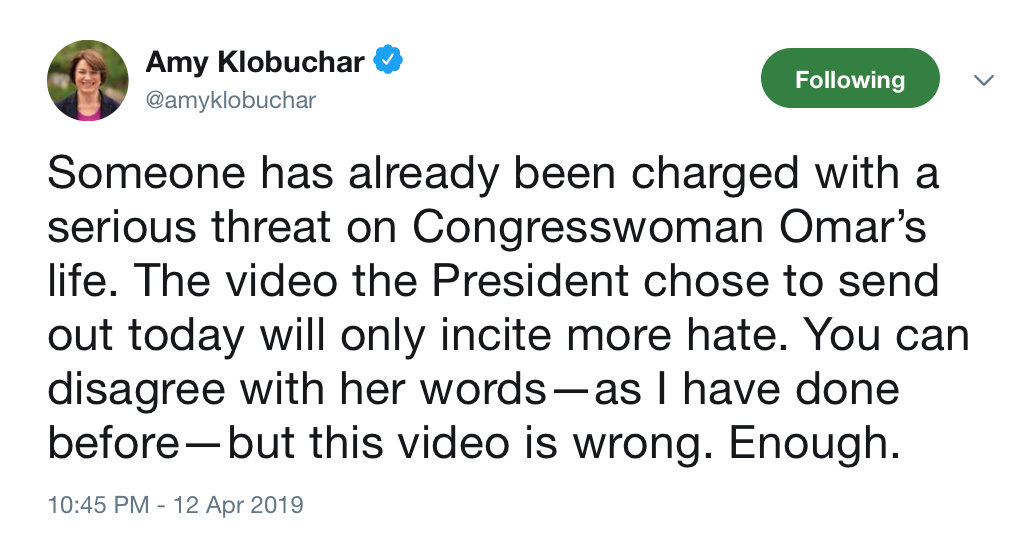 If Nancy Pelosi doesn't do better than this: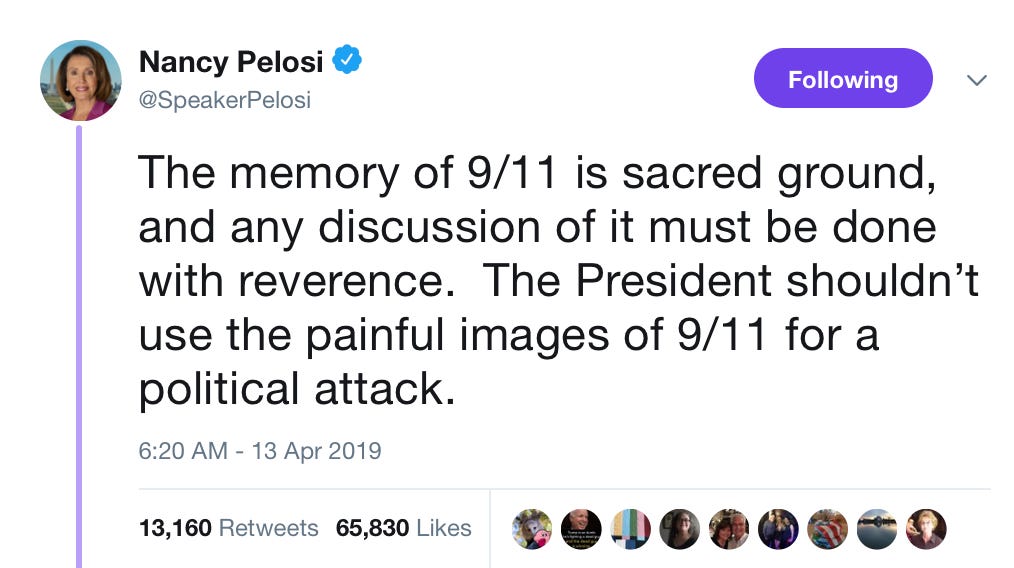 Then we really are going to get what we deserve in the way of government (and that kills me to type that)
"Now is the time for all good men and women to come to the aid of their country."
That line was shared with me by my mom (when I asked her to help me learn to type she wrote it out and told me to type it over and over) decades ago. Except, she was paraphrasing. The original quote left out women. I learned that men and women both needed to be a part of civil society. Of course, it is only in retrospect I get the significance of mom tossing in "women"—it stayed with me all these years.  
I go a step further.  White women, I am calling on you, demanding you come to the aid of your country. Coming to the aid of my country means showing up for women—especially women of color. It is way, way, way beyond time. Equivocation on the Trump video equals compliance.
Congresswoman Ilhan Omar has been repeatedly attacked by the right and by Donald Trump. She has received death threats, credible death threats that have resulted in arrests. And now Trump unloads a clarion call for violence against Omar—a woman of color, an immigrant, a Muslim. 
Despite credible threats Ms. Omar doesn't get any security detail. 
You know who does have a security detail? Betsy DeVos, who is costing us millions of dollars.  Not only as she takes up space as the least qualified Secretary of Education, but with her private security detail. One article tallies her bill at over $18 million last year alone.
Finally, on Sunday, Speaker Pelosi released a statement saying, "Following the president's tweet, I spoke with the Sergeant-at-Arms to ensure that Capitol Police are conducting a security assessment to safeguard Congresswoman Omar, her family, and her staff. They will continue to monitor and address the threats she faces." 
A security assessment—not a detail.
What is the biggest difference between these two women? One is versed in policy, was elected to hold public office to represent the people of Minnesota, and is a Black Muslim naturalized citizen. One is defiantly ignorant of policy, bought her way into her position, and was installed to place money in the hands of religious schools, etc., and is a white Christian woman.  
Make no mistake—the buck stops with Donald Trump. A blatant racist, Islamaphobe and misogynist. He lied about seeing Muslims dancing in New Jersey as the Twin Towers fell. He is a birther who continually questioned President Barack Obama's citizenship in the loudest dog whistle, and claimed there are 'very good people' on both sides of the white nationalist rally where Heather Heyer was murdered and offered deafening silence after the Tree of Life Synagogue massacre.  In Omar Trump has his perfect target: Black Woman Muslim. It is a trifecta of fear Trump uses to bring out his base. It is only going to get worse as we approach 2020.
And he has a complicit GOP who enables him at every turn when they aren't busy advancing his hateful narrative. 
But it is also on us, white women. 
To the white women in office including my senator and presidential hopeful Kirsten Gillibrand, I want more than words. Compare Gillibrand's action - swift and decisive - on Al Franken and her non-response to Trump's threat against Omar.  Without comparable action from Gillibrand what does that say about her priorities? 
I expect Democrats to come out fighting. And by fighting I mean speaking the truth no matter the perceived political cost. The only woman I have seen reliably speaking truth to power recently is Rep. Omar who correctly said to Trump, -  "You have trafficked in hate your whole life." The action or inaction of white women against the vile threats against Rep. Omar is already telling.  
I have read commentary from white men  that the Omar thing is just a distraction from the real issues.  One article by David Frum cautions that Trump's attack on Omar is a "trap for democrats."  Frum as usual misses the point. He condemns the full support offered by Warren and Sanders to Ms. Omar. Frum preferrs the more "circumspect" responses of all the other 2020 hopefuls. 
His lede: 
Many of President Donald Trump's tweets backfire, but not his tweet attack on U.S. Representative Ilhan Omar. That one tweet succeeded to perfection. Trump wishes to make Omar the face of the Democratic Party heading into the 2020 elections—and now he has provoked Democrats to comply.
This paragraph is the definition of white male supremacy. Framing politics as a voting game a horse race and something to be pondered from afar.
For women, especially WOC, politics are our lives. Politics are local - so local they are in my uterus. There is no separation for women living day to day doing the work to make sure we aren't  murdered by our husbands, that we aren't raped, that we get equal pay for equal work, that we are seen and heard.  
Omar told Stephen Colbert: "Women have been told to go slow and not be seen and not be heard for many years. She [Pelosi] wouldn't have made it to where she is if she did.  We are not there to be invisible. And it's certainly the case for minority women … We are there to follow the lead of people like Congressman John Lewis and make good trouble". 
It is easier for him (and to be fair easier for a lot of us) to focus on the Islamaphobia aspect of the attacks against Omar excavating her comments about AIPAC (which again she has apologized for repeatedly) than to admit this is  about our white supremacy problem.  
But don't take it from me.
Take it from Anthea Butler: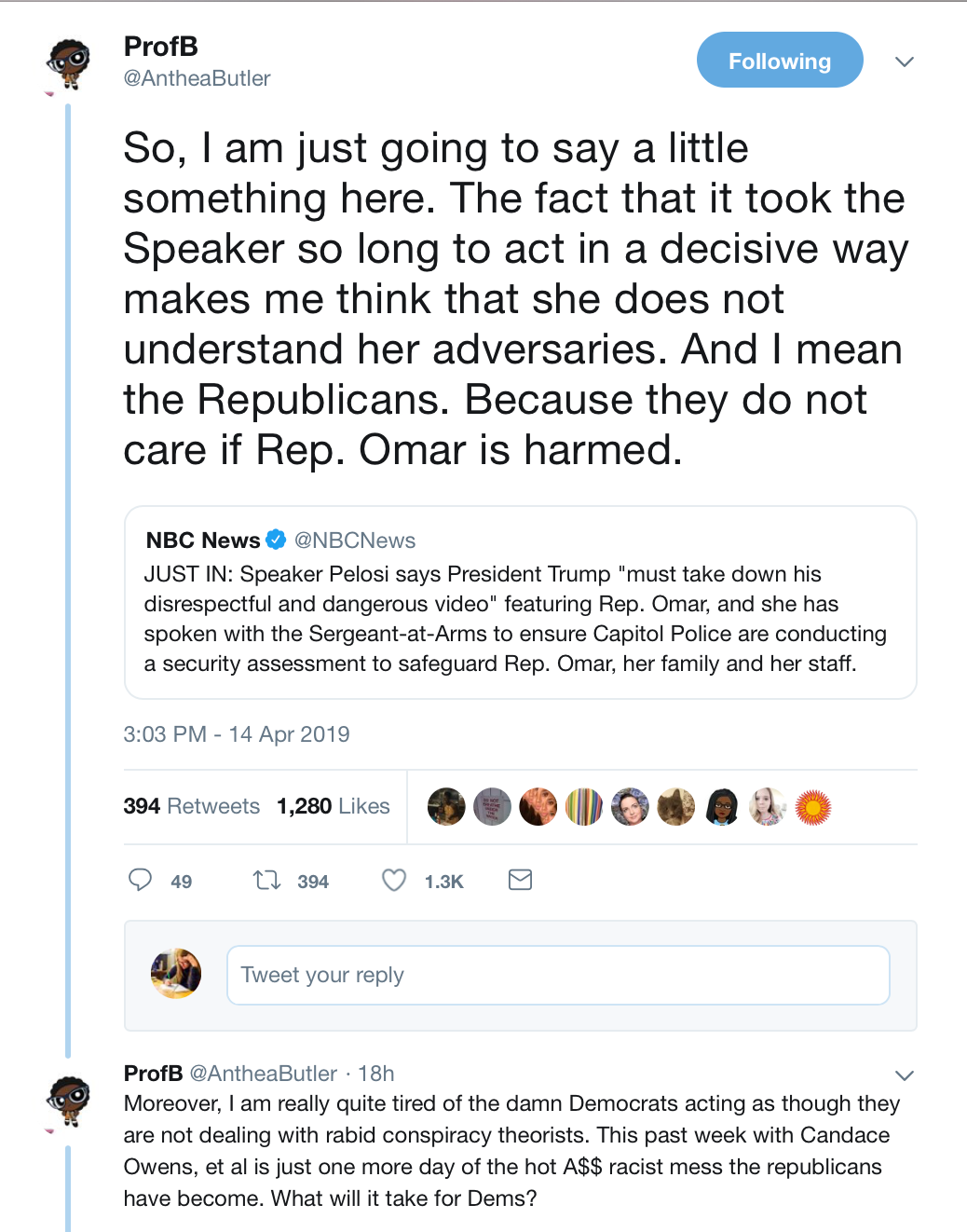 and Wagatwe Wanjuki: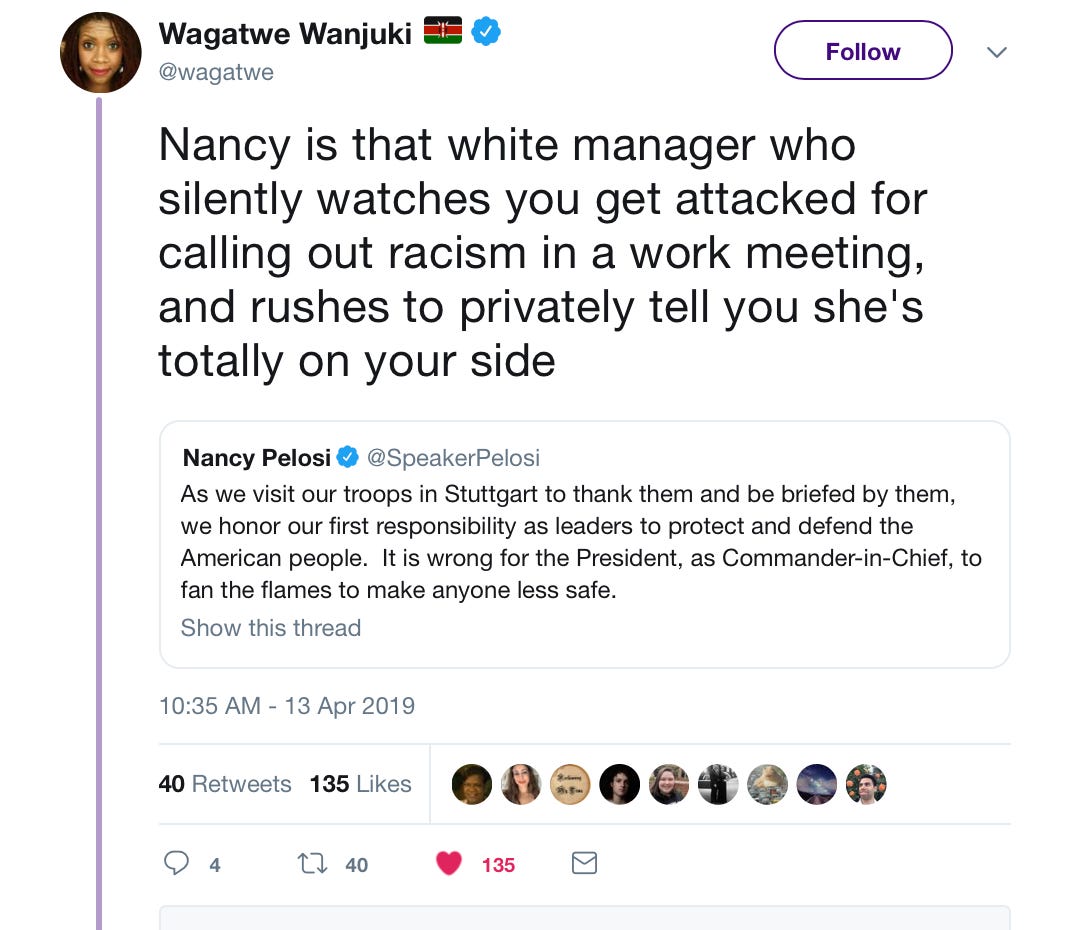 and Shireen Mitchell: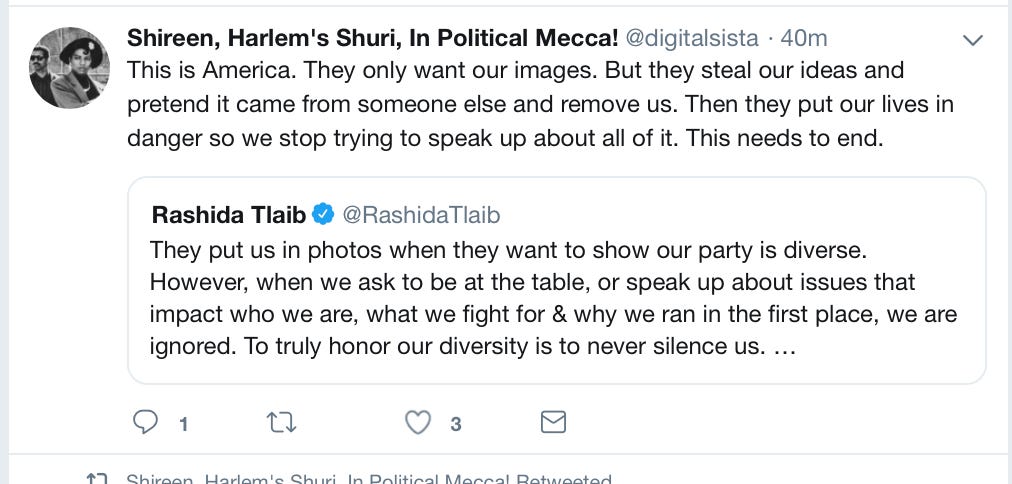 But ultimately from Rep. Omar herself: