June 18, 2018 - My Dispatch From Cambodia
"Pol Pot separated families, too" - Youk Chhang, KR survivor and Director, DCCam Phnom Penh
Update: go watch the House Oversight Committee hearing then tell me please how these aren't prison camps?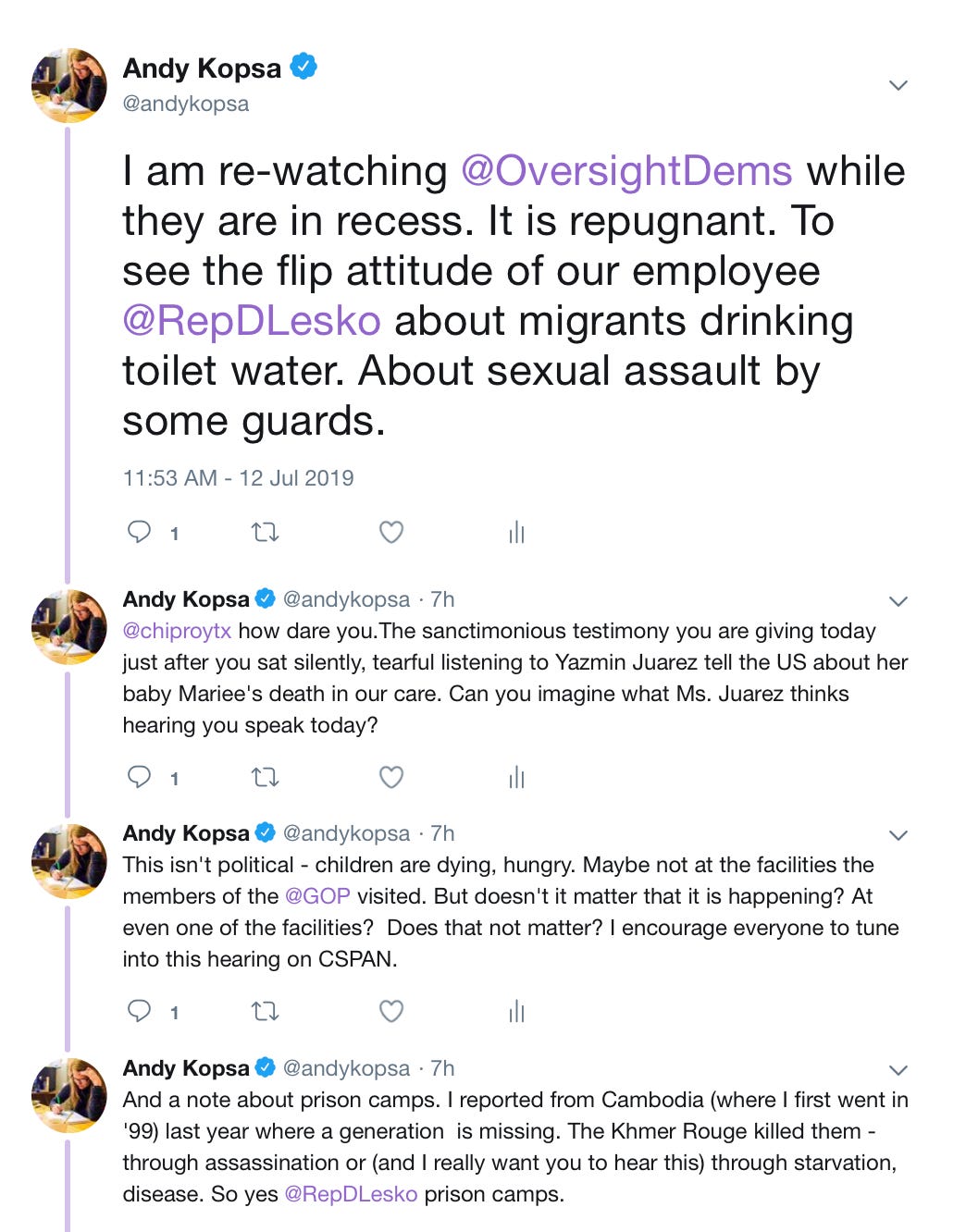 This is a rambling email is sent to a shirttail connection at the WaPo. Thank you Helaine for indulging my rambling ramblings.
I was thinking about this when the GOP collectively lost their shit yesterday That Rep. Alexandria Ocasio-Cortez because she linked to an article in Esquire: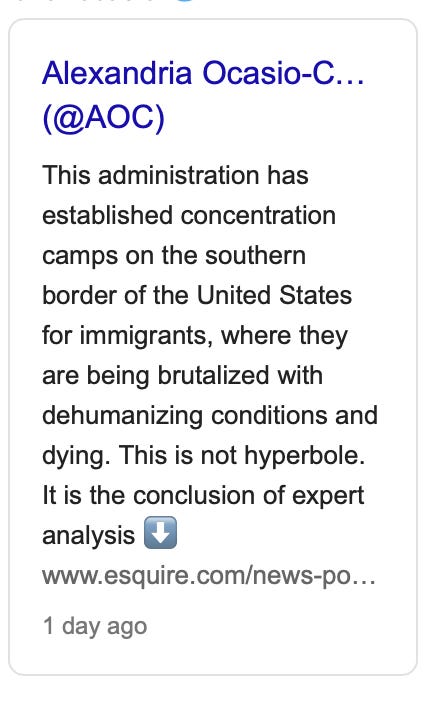 Since no one reads and since AOC is a brown woman well, the GOP lost their shit (she was pointing everyone to article. By an expert. Expert). I am not even going to single any one Republican out because they are all complicit by now.
Anyway.
The point?
Every single person I interviewed for my story were survivors of the Khmer Rouge genocide (people have to remember the KR happened in the 1970s one woman I sat with was born in a pagoda one of Pol Pot's camps, her mom was pregnant when they forced evacuation of Phnom Penh) and every one of them I sat down with were sickened by news breaking big internationally about Trump's jails.
They all said a variation of the same thing: Pol Pot separated families too. One former political analyst an commentator I spoke with posed the perfect rhetoricl question: how can [anyone] look at the "father of democracy" after he [Trump] has done this to human beings.
So not hyperbole.
Side note: obviously this is from a year ago so Trump has done even more dictator-y stuff since then.
---
June 18, 2018
I am in Cambodia reporting.  I am watching what is happening back home.  I am here reporting on the death of democracy - Prime Minister Hun Sen as de-facto dictator.  Abolishing opposition parties, decrying unfavorable reporting as "fake news" he has shut down the free press - the Phnom Penh Post was the last to go.
I first came to Cambodia in 1999.  Things were different then.  Just two years out from the first election in post Khmer Rouge and civil war torn Cambodia.  Hun Sen was installed by the US, Vietnam and France as PM and remains through acts of violence, threats and arbitrary interpretation of law.  In 1999 the airport was basically a breeze way.  They runway where US helicopters came in to scoop up the last Americans from the US Embassy after Phnom Penh fell to Pol Pot was still rough, processing through customs a hot hours long quest held in an open hall the line curling round the space leading to a giant desk, pay your $20 USD, move on.  The Killing Fields weren't the tourist destination it is today.  There were no sky scrapers.  Traveling with a photojournalist, we had to be careful still.  We were going places we weren't supposed to go.
I returned for a short reporting trip in February.   Coming out of the jetway (something that didn't exist in 1999) I was stunned: Burger King, Relay, signs boasting "Pizza Hut Coming Soon."  There is a duty free shop - a decent one at that.  There are no more lines - computer touch screens allow you to get a visa standing there.  Coming out of the airport there are scores of cabs, tuk-tuks (can be ordered with the PassApp kinda like getting an Uber) across the new looking lanes for drop off/pick up were the flashing lights of - what was that?  A casino?  Hotels and a notable skyline? Where the fuck was I?

At first it seems like progress – this airport ("Expanding to add more gates!") all the hotels lit up in neon ringing the road leading out of the complex.What a giant leap Cambodia had made since my first trip almost 20 years ago.You can tell a lot about a country from its airports and from the looks of it Cambodia was on the rise.
But that is what they want you to think, I learn. That is what Cambodia is – a fancy airport that gives the appearance of progress.What is really happening is far more sinister. All the Relays, duty-free-booze-cosmetics-smokes counters and 8-dollar Burger King sandwiches in the world won't change that fact.
I had known about the deterioration of the free press here for some time.  I have acquaintances who worked for both the now-shuttered newspapers Since my visit in February the situation has gotten even worse.  Knowing I was coming back I started keeping a score sheet to track the disturbing similarities between Donald Trump and Hun Sen.  

I could be flip here and I reckon I will just for a moment:  Who has consolidated power by installing family members to positions of power within their administration?  Donald Trump?  Hun Sen?  Trick question. Gotcha. The answer is both.  We know about Ivanka and Jared and the mind numbing fact they have security clearance haunts me daily.  Hun Sen has promoted his West-Point educated son to a high ranking position in the military, for good measure he threw in his son-in-law as well.  His daughter is a sort of Cambodian Kellyanne Conway: spin, lie, spin.  
Both leaders have pet media outlets to broadcast propaganda; FOX of course and here in Cambodia the Khmer Times carry's the administration's water.  Hun Sen has thrown foreign journalists and opposition party leaders in jail, Trump still loves that line "Lock her Up!"  Both men use fear and threats designed to tamp down The Resistance or what some here are saying is a covert color revolution.  Both are happy to threaten non-citizens and citizens alike - Hun Sen has his military and Trump has Bolton, Pompeo, ICE and other paramilitary police departments around the country.  Hun Sen, like Trump, is working to both legitimize and discredit the upcoming elections, general and midterms respectively. 
And you know what?  They used to tear apart families here. Hun Sen, a former Khmer Rouge cadre, defected.  Critics openly question Sen's tenure in the Khmer Rouge.  There is something of a god-like myth about Hun Sen's self-reported refusal to carry out the horrific directives of the regime spurring his defection to Vietnam and subsequent return as a conquering hero to overthrow Pol Pot.  Whether or not Sen participated in atrocities is probably unknowable and it is important to point out that many people in country then found themselves caught up - literally overnight - in a runaway nightmare where people didn't know friend from foe. 
Whatever the case, the story of Hun Sen's return has kept him in office - this year he performed a reenactment of his fateful defection into Vietnam - in case any citizens had forgotten.  Trump too has his own creation myth.  Successful business man, dealmaker, pledging to make America Great Again because of his incredible mind powers.  The truth when it comes to Trump is inconsequential.  Despite catalogs of lawsuits, a string of failed ventures - oh and all of that bleeding from her whatever pussy grabbing sexual assault alleging stuff - he endures.  
Elizabeth Becker was a journalist in Cambodia during the civil war and through the time of the Khmer Rouge. In her incredible book When the War Was Over she opens with the story of survivor named Komphot, a banker from Phnom Penh.  The day the Khmer Rouge forcibly evacuated Phnom Penh, a dazed Komphot walked through empty streets to a well known hotel where many foreigners would meet for cocktails, a place where he would go. Certainly the foreigners would know what was really going on.  
Komphot approached the hotel and ran into an old acquaintance - the man looked haunted -  he said.  The acquaintance told Komphot that all the foreigners had been evacuated to the French Embassy. And, the man told Komphot, he gave his child to one of the foreigners - a stranger -  for safekeeping.  Komphot walked the streets - he had to give the Khmer Rouge the benefit of the doubt The Khmer Rouge were nationalists, Komphot thought and after years of a corrupt government maybe they would restore faith in the Kingdom and the government.   
"I had to hope. I couldn't imagine giving away a child after on day of the Khmer Rouge.  I didn't want to overestimate what the Khmer Rouge was doing.  I wanted to be rational."
When I hear people in the US say things like "This isn't who we are as Americans" when Trump yet another horrible thing or when people claim this or that could "Never happen here!" I think of Komphot - he couldn't believe it either.