Father's Day Post
Every day is Father's Day
This time last year I was in a fever. An absolute panic. I had to send a package. It was a Father's Day gift. By this time I knew that it would be my dad's final one; he was diagnosed with pancreatic cancer only a month before. I knew (we knew) it wouldn't be long. Why then was this woman who was behind the counter at Fed Ex unable to understand the urgency?
I had to catch a plane that night - a flight I didn't want to take for work that would take me from JFK to Dubai to Bangkok finally alighting in Phnom Penh, Cambodia - for work and if I didn't get the package sent I would never ever forgive myself.  I stood seething clutching the large soft express envelope full of dad's last gift like it was the one ring.   
I admit I was almost thrown out of the Fed Ex store that day. Apparently my intense feelings of anticipatory grief, a long haul flight and guilt over oh my god what if he dies while I am gone?  were misunderstood as aggression.  
The other day I was in CVS to pick up something (toothpaste maybe?)and mistakenly turned down the card aisle. The sight of row upon row of greetings cheering Dad! sent my running out the door thinking just let me make it out of this store without breaking down crying. Toothpasteless and crying I walked all the way home.  
I have had moments, days and even a week or two now and then where I am among the high functioning bereaved. There are other days, weeks, forevers where I look at one part of my apartment wall across from my couch for an entire day and into the early evening hours - sun setting later and later.   
There are some things that people, Daughters with Dead Dads (DWDD), may be able to cling to like a piece of a boat hull in the salty dark sea moments after the vessel was blown apart - its all there the boat but it is forever changed. 
Broken. Cannot be mended*. 
My smoldering chunk of wood today (and this grief shit is day to day) is my tribe gets it without saying one word. Telepathy, secret handshake, finger flicked knowingly on the side of our noses.
It was still dark when I woke in Phnom Penh. The flight uneventful albeit long one I have made before but under different circumstances. I stayed awake the day I landed defying the gods of jet lag until late but still woke before the city genuinely came to life. I checked my email. Mom sent a photo of dad holding his gift (handmade by me) smiling ear to ear. The package had arrived. 
I pulled out pen, paper and my phone. I scratched out a note took a photo of me, glowing signage and slight sunrise in the background holding the sign. 
Happy Father's Day From Cambodia! I clicked send.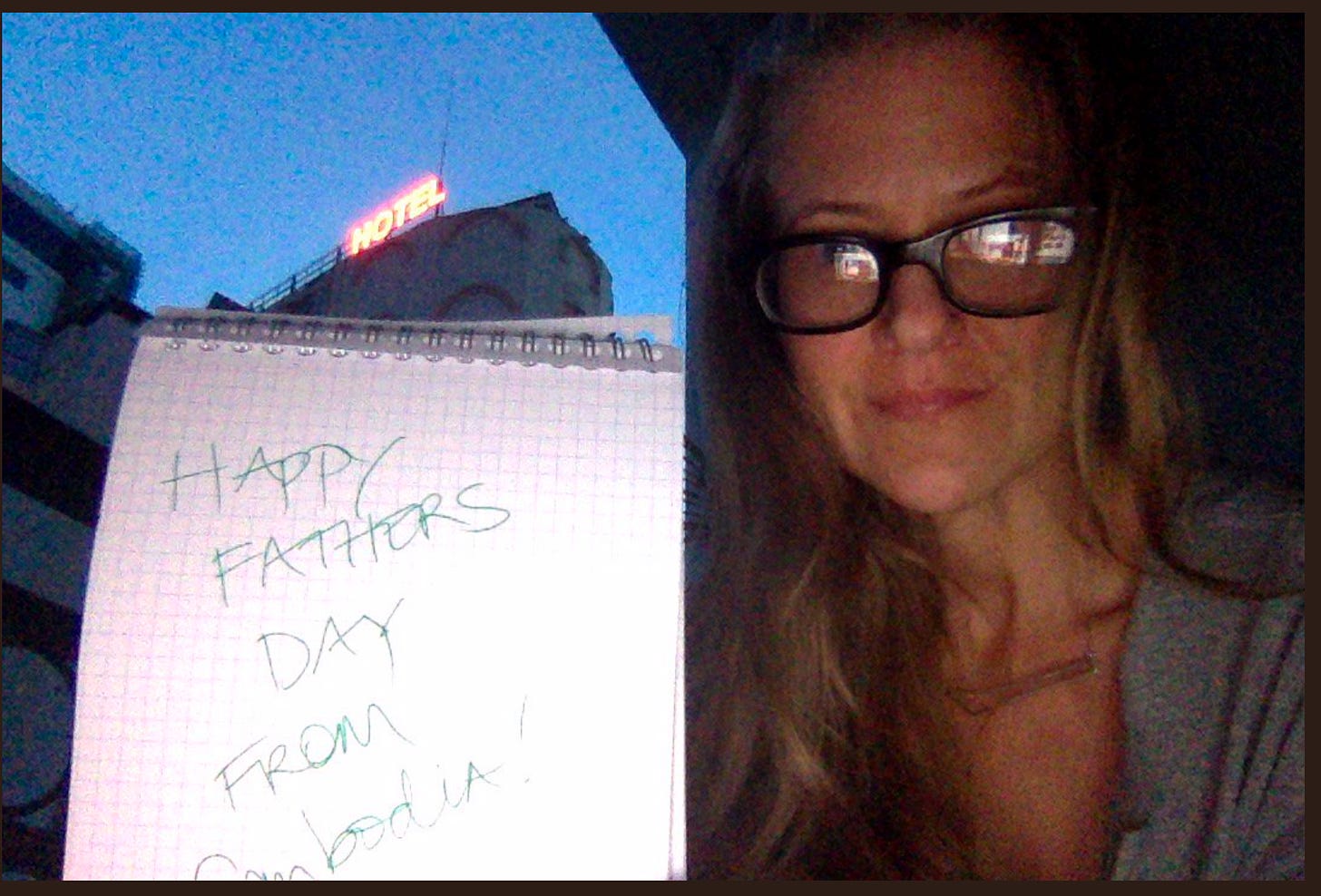 ---
NOTE: * = a line from a Brit series more on that later when I get to the part where I explain the comfort I got/get from rewatching Brit shows over. And over. And over. Since dad died.