Bra-Gate in KC and why you have to care
Why yes ladies, remove your underwires to go through security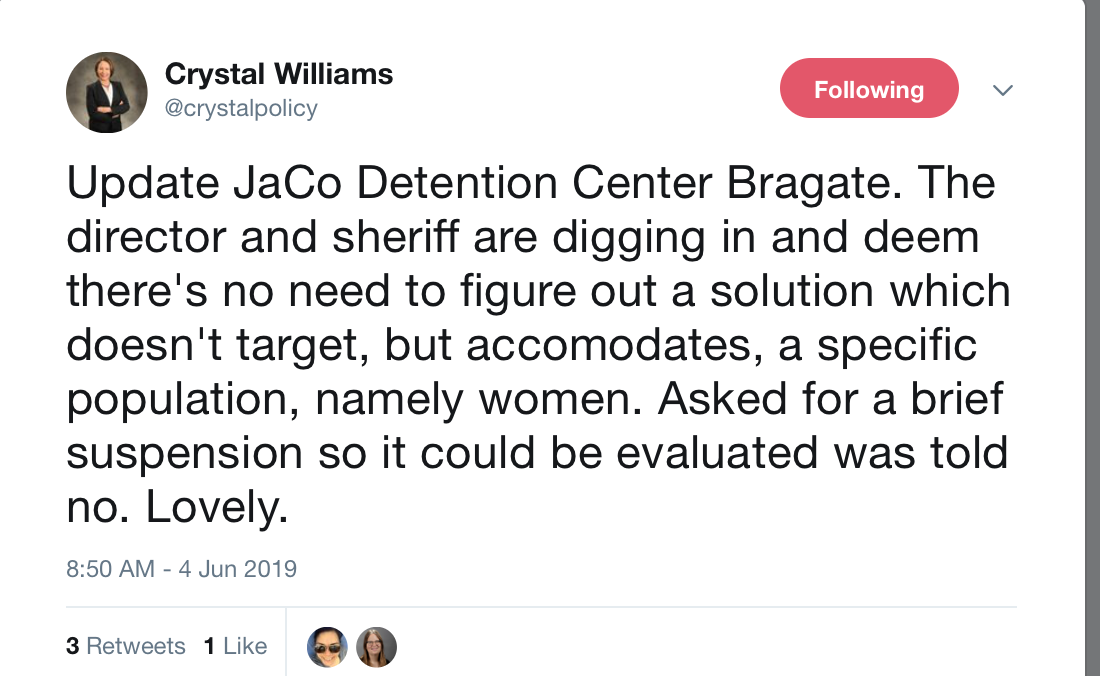 Jackson County Sheriff's Department makes women remove underwire bras to get through security check point.
Here is their phone number (and fax!): Phone: 816-541-8017 Fax: 816-795-1969 and - here is a link to their Twitter account. They would like to hear from you on this new policy.
My friend, Crystal Williams, posted about this the other day and I had to read it a few times. Williams is 2nd District At-Large Legislator for Jax Co. and her hair is on fire on our behalf. This from a recent Kansas City Star article:

Today she posted the following open letter and encourages all of us to share liberally:
---
Open Letter from Members of the Jackson County Missouri Criminal Defense Bar Regarding Newly Instituted Security Procedures at the Jackson County Detention Center

To Sheriff Daryl Forté
Jackson County Sheriff's Department
​As members of an online platform comprised of over 240 criminal defense practitioners throughout the Kansas City Metropolitan Area, on both sides of the state line, we would like to express our consensus view as follows:

The Jackson County Detention Center opened in 1984. Other than the St. Louis County Detention Center, it is the largest pretrial detention facility in the state and houses the largest number of pretrial detainees in the State of Missouri. As Jackson County's website acknowledges, it is not a prison but a pretrial detention facility, where "the vast majority of inmates confined at the JCDC [are] involved in the trial process and, therefore, presumed innocent." Obviously, access to attorneys by those awaiting trial is critical to the justice system and is a right guaranteed to all of us by the Sixth Amendment to the United States Constitution. 

​Until May of 2019, like the vast majority other pretrial detention facilities in the area, JCDC had sensible rules for allowing attorneys access to their clients. For over 30 years the JCDC set the example statewide for efficient, safe, and meaningful attorney-client access at a holding facility. We are unaware of any documented incident of abuse of these attorney-client visitation procedures by attorneys or clients. Despite jail overcrowding, despite the failing infrastructure of the jail and court facilities, despite overworked courts and public defenders (who by default represent most of the detainees), and lack of funding to address any of these issues, this attorney-client visitation efficiency remained. This was mostly due to the sensible and proven procedures that had been in place for 30 plus years.
The new rule requires all attorneys seeking a contact visit with a client (the usual and only meaningful type of visit) to place shoes, belts, briefcases, and contents of pockets into bins for x-ray scanning. We do not believe this is an unreasonable procedure. 

The attorney must then, however, walk through a metal detector. If the metal detector is set off, he or she will be denied entrance. This measure has led to what has been labeled "Bra-gate." Bras with underwire support set these detectors off. Women are then required to either remove their bras or not see their clients.

The net effect of these newly implemented measures is that female attorneys are being denied meaningful access to their clients in violation of their clients' constitutional right to counsel.

​The screening procedure, as implemented, is unreasonable and unnecessary. For over 30 years, there were absolutely no security restrictions on attorneys meeting with clients in Jackson County. Despite that, there are apparently no documented incidents of attorneys abusing this system. The new rule is also seen as unnecessary by every other pretrial detention facility in Missouri and Kansas of which we are aware. We could not find a single holding facility using a similar procedure.
There are similar procedures for passing through a metal detector in place, for example, at CCA in Leavenworth, Kansas, or at any Federal courthouse, which can be set off by underwire in an undergarment. In those instances, however, if an attorney sets off the metal detector because of the underwire in a bra, the security officer uses a hand-held wand detector to confirm that fact, and the attorney is allowed entrance. Women attorneys are not turned away and are not told they may not wear the offending undergarment at any other pretrial detention facility we could locate except JCDC.

​We are not security experts. We are attorneys. We recognize that security measures at some level may be required at the JCDC, including the screening of attorneys and restrictions on objects brought in to the visit. But these screening procedures cannot be at the expense of meaningful access to clients without an apparent and justifiable reason. The balancing of interests is clear. Security can be assured and this issue can be avoided by simply following the rules that are in place at other pretrial holding facilities in the area, which have been able to effectively protect the safety of all involved while not discriminating against those who are trying to seek entrance to perform their duties.
The male defense attorneys in our group see our female counterparts as equals and feel this security protocol singles them out for disparate treatment and does not afford them the dignity and respect they deserve. It is undeniable that many female members of our group feel humiliated at the prospect of having to get their undergarments cleared before being allowed to do their jobs. As officers of the court who are sworn to uphold the law, we feel that we can be trusted to respect the integrity of the security of your facility and the rule of law, as we have proven for over 30 years. 
​​​​​​
Respectfully,
​​​​​​
Denise Kirby, Attorney
​​​​​​Tracy Spradlin, Attorney
​​​​​​Carie Allen, Assistant Federal Defender,
Western District of Missouri, Attorney
Katie Webber, Assistant Appellate Public defender, Attorney
---